With Passion and Expertise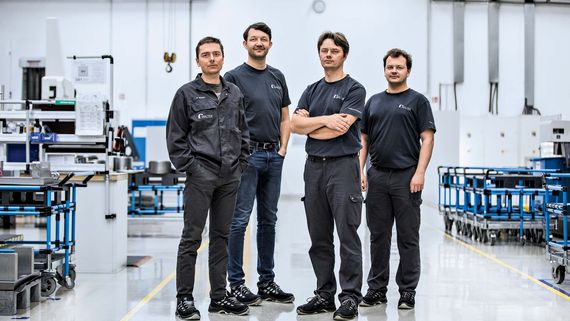 A LARGE, VERY BRIGHT, very clean production hall. There is a distinct lack of the smell of warm metal that is so common in mechanical engineering. Two men stand at a large machining center in the front left wearing the obligatory WALTER shirts while looking into the inside of the machine and discussing matters. At the rear right a slightly older staff member starts up the test cycle on a measuring machine.
Mechanical manufacture lies at the heart of operations at the Czech site in Kuřim. High-precision parts for grinding, eroding and measuring machines are produced here. The machine, on which machine operator Jiří Zeman and technician David Eliášek are intensively discussing the machining of a new part, is one of two new universal 5-axis machining centers.
Over 200 tools – from drills to cutters to the self-developed finishing tool – are located in the automatic tool changer of each of the machines. "It takes a few hours to produce a Y-slide, and almost 50 of the tools are used," explains Petr Konečný, Head of Mechanical Manufacturing. From here, the slide goes over to the measuring station, where it is tested for precision in the range of thousandths of a millimeter. It is then installed in a WALTER HELITRONIC POWER 400 in the flow assembly.
The industrial estate in Kuřim is situated on a country road coming from Brno, the Czech Republic's second largest city, first mentioned 1000 years ago. The estate is home to plant after plant. The facilities of Walter s.r.o. Kuřim are one of three UNITED GRINDING Group manufacture and assembly sites, situated just to the right of the town's limits. The other two are in Thun, Switzerland, and in Shanghai, China. "We are currently investing in two of these locations," explains Erich Schmid, Director of Strategic Projects at the Group. Practiced corporate values, such as precision and passion ensure that the Group continuously invests in new technologies and solutions. Or as Schmid puts it: "We work with a wealth of expertise – and with a passion."
CEO Stephan Nell also believes in passion as the key value for all corporate actions within the Group: "Developing machines that already operate successfully or optimizing applications that are already widely used would not have been possible without this kind of passion." Expert Niels Alzen also confirms the importance of defining a company through values. The Executive Director at BrightHouse consulting, a subsidiary agency of Boston Consulting Group, explains: "Motivation and a sense of purpose are what companies really need to shape their future and maintain a competitive edge." Purpose, he calls this necessary superstructure.
« Anyone aiming to offer cutting-edge highprecision machines needs to invest, even if the current situation is dominated by stagnation »
Erich Schmid, Director Strategic Projects UNITED GRINDING Group
The newly acquired machining centers are primarily used to increase flexibility in Kuřim. "When one machining center is converted or serviced, the other continues to run," explains Milan Urban. As the Head of Supply Chain Management, he is responsible for the internal supply of parts for the assembly. Manufacturing currently merely supplies parts for the in-house production of WALTER and EWAG grinding, eroding and measuring machines. In the long term, the intention is to also manufacture parts for machines of the other UNITED GRINDING Group brands.
The new machines in Kuřim are also intended to machine new parts and prototypes. "In this context, new machines make it possible to significantly cut reaction times", Urban adds. There are plans to add a host of components, such as workpiece carriers, to the range of products manufactured in house. "Consequently, we are in full control of parts' quality", mechanical engineering graduate Konečny explains.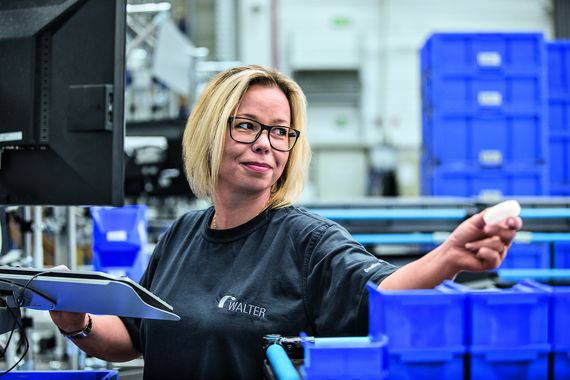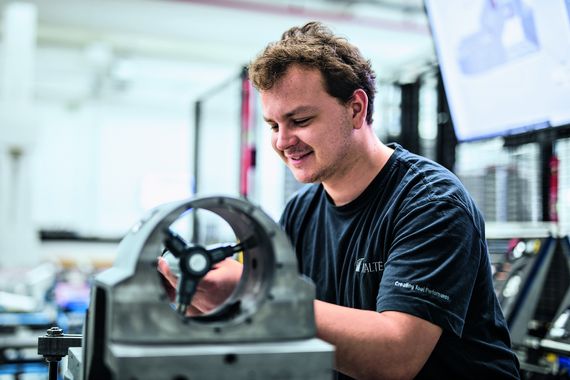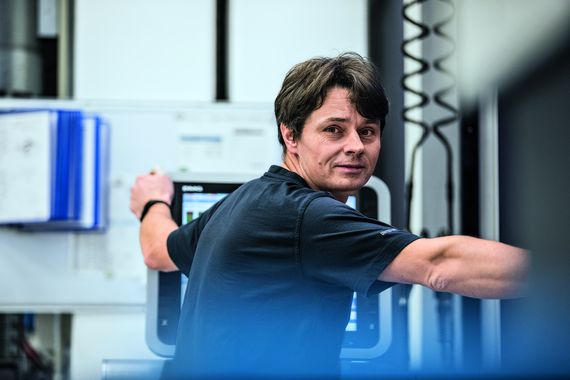 The Group's entire investment program is intended to boost the manufacture at all three, worldwide sites to a global standard. "The idea is to be able to balance capacity on a global level of demand," explains Erich Schmid. In order to make this compensation possible, identical processing centers were purchased in production at STUDER in Thun, Switzerland, to those in Kuřim.
Across UNITED GRINDING Group's global manufacturing site concept all manufacturing sites are linked by a shared programming system and universal databases. The so-called central CAX support of the Group directs the CAD and CAM programming of the production facilities from Thun. "This way we know what the others are doing," explains Alexander Heiter, Konečny's colleague in Switzerland and Head of Mechanical Manufacturing at STUDER. This enables both the shifting of production as well as the ability to learn from each other across borders.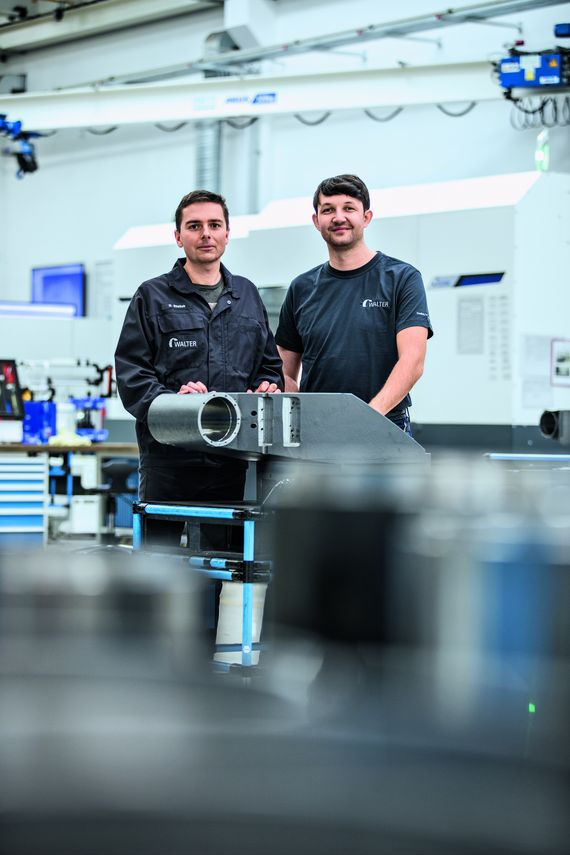 Production in Kuřim has been fully integrated into a network. Technician David Eliášek and his team develop programming for processing new parts in the CAD/CAM system. Although he is only 38 years old, the team leader has been working in manufacturing for 20 years, four of them at Walter s.r.o. "As part of the machining of new parts we regularly come here to the shop floor to analyze ways of further optimizing programming together with machine operators", he explains.
The industrial location of Kuřim and the nearby university town of Brno with its technical faculties are the ideal environment for a demanding machine manufacturer such as the UNITED GRINDING Group. "We can rely on excellently trained staff members here", Milan Urban explains, "and that is just as important as high-precision, highend machines."
From mechanical production in Kuřim, the parts either go directly into assembly or, until they are needed, into a storage system with automated warehouse management. Small parts required for assembly are stocked in an equally automated high bay warehouse located in an adjacent hall. Logistics team member Petra Kupková and her colleagues prepare them for internal supply as required. Throughout her 16 years at Walter s.r.o. Petra Kupková has witnessed all steps of the ongoing warehouse automation. Now, all logistics systems in Kuřim – procurement, production, warehousing and distribution – are optimized and merged into a comprehensive project.
"Our next investment will be an extended warehouse management system", supply chain specialist Urban explains. It will comprehensively illustrate the overall goods flow and help to further cut processing times as well as additionally boost delivery reliability for our customers.
« China is transforming from low-tech to high-tech production at a breathtaking pace »
David Wen, Production Manager UNITED GRINDING China